Welcome
Thanks for stopping by the web site for Chesapeake Human Resource Services, Human Resource Advisors.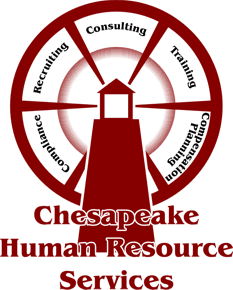 Chesapeake Human Resource Services works with Business Owners and Managers who believe effective Human Resource management is critical to the success of their business. They know an employee culture characterized by low turnover and high levels of employee satisfaction will impact the bottom line in measurable ways. Chesapeake HR can help your company make the link between people to profits.
Our mission is to bring money saving, productivity improving, Fortune 500 Human Resource expertise and practices to small and mid-sized businesses. We specialize in providing as-needed advice, project based solutions or complete HR outsourcing to help companies get the most out of their Human Resource investment.